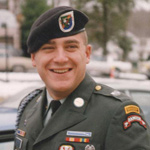 Cpl. James "Jamie" Edgar Smith Jr (February 1972 - October 3, 1993) was a U.S. Army Ranger who served in Mogadishu, Somalia, and was one of 19 American soldiers killed during the Battle of Mogadishu of 1993. Smith was combat effective throughout the majority of the battle with his squad around Super 61s crash site, until later in the night hours, when he was shot in the right thigh. The bullet severed his femoral artery, and bled out for some time before dying that same night.
Black Hawk Down Movie
In the 2001 film Black Hawk Down, Jamie Smith is a ranger in Chalk 4. In the afternoon while at the first crash site, Nelson, Twombly and Yurek arrive. An enemy fires at Twombly, and Smith goes to help him. As they dash to the stronghold, Smith is shot and Eversmann drags him to safety.
The Battle of Mogadishu
Jamie Smith was a part of Ranger Chalk One during the Battle of Mogadishu, who's mission was to cover the south-east corner of the target building while the Delta assault force arrested the targets of the operation. Smith was also labeled the "best shot" of the chalk. After Black Hawk Super-Six-One was hit by a RPG (Rocket-Propelled Grenade) and crashed into the city, Chalk One, along with the Delta assault force and Ranger Chalk Three, were ordered to fight their way to the crash site and establish a defense perimeter until the rescue convoy arrived. While moving up to the crash alongside Lieutenant Larry Perino and several other Rangers, Smith was shot in the femoral artery. After being dragged into a building near the crash site, Delta medic Kurt Schmid worked tirelessly to save Smiths life. Schmid realized that the only way to stop the bleeding was to find the severed formal artery and clamp it. When told this, Smith asked for a morphine drip before Schimd attempted it, but because morpine would lower his heart rate too far (which could kill Smith) Schmid denied the request. Unfortunately, Schmid's attempts to clamp the femoral ended in failure. After this, Perino and Ranger Captain Mike Steele pushed for JOC (the battle's command center) to send a medevac for Smith and Ranger Carlo Rodriguez, who was also mortally wounded. Because of four black hawks being hit with RPGs, JOC relayed that Smith would have to hang on until the rescue convoy arrived. Sadly, Smith would bleed out before the convoy could make it.
Community content is available under
CC-BY-SA
unless otherwise noted.