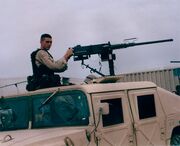 Pfc. Richard Wayne Kowalewski Jr. (March 31, 1973 – October 3, 1993) was a U.S. Army Ranger who served in Mogadishu, Somalia. He was one of the 18 casualties of The Battle of Mogadishu, and noted for being killed instantly when a round from a Rocket-propelled grenade (RPG) shot through the cabin of the 5 ton truck he was driving, which was part of the main ground convoy, severing his left arm and lodging into his torso.
He was also nicknamed "Alphabet", because the other Rangers did't want to call him by his long last name.
Community content is available under
CC-BY-SA
unless otherwise noted.