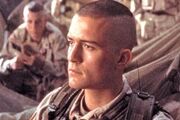 Private First Class 
Todd Blackburn was a U.S. Army Ranger who was born February 27 1975 and served in Mogadishu, Somalia. When he was about to deploy from Super 67, an enemy RPG fired upon the helicopter,the helicopter dodges but the movement causes Blackburn to miss the rope. Severly injured, he was extracted back to base by Struecker's column.
In the 2001 movie of Black Hawk Down, Blackburn was portrayed by Orlando Bloom.
Trivia
In the movie, while talking to Jamie's dead body, Eversmann mentions that "he was talking to the Blackburn the other day". While this line may seem out of place, Eversmann does has a conversation with Blackburn in a Deleted Scene.